Date: Monday, January 16, 2023
Time: 7:30 a.m. - 9:00 a.m.

ECU Murphy Center (Harvey Hall)
100 Ficklen Dr.
Greenville, NC 27858

This is a free event and open to the public.
This may be a standing-room only event.

The 26th Annual Community Unity Breakfast is held on the commemoration of Dr. Martin Luther King Jr.'s birthday, to celebrate and expand diversity initiatives in Greenville and Pitt County.

Keynote Speaker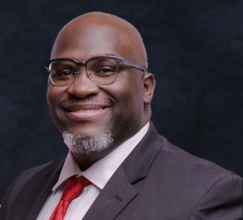 Reverend Dr. James H. Alexander, Senior Pastor
Sycamore Hill Missionary Baptist Church

Dr. Alexander received his Bachelor of Arts in Business Administration with a concentration in Management from Morehouse College. He continued his academic pursuits at the Candler School of Theology at Emory University in Decatur, GA, where he earned a Master of Divinity with a concentration in Theology and Ethics, with a certificate in Baptist Studies. Following graduation, he served 2 years as a Teaching Associate / Adjunct Instructor. In 2021, Dr. Alexander successfully defended his doctoral dissertation "Beginning a Good Work: Embracing the Model of Nehemiah for Pastoral Transitions" from Drew University in Madison, NJ, earning a Doctor of Ministry with a concentration in Pastoral Identity and Prophetic Fire in a Fluid Context.

In 2019, Dr. Alexander returned to Greenville to serve as the 15th Pastor of the Historic Sycamore Hill Missionary Baptist Church in Greenville, NC. His arrival and emphasis on reframing "community" has spearheaded membership growth, increased outreach and evangelistic initiatives while incorporating virtual ministry efforts to expand the church's reach beyond Pitt County. Dr. Alexander partners in life and ministry with his wife, Rev. Amanda Alexander, the ACPE Certified Educator and Program Manager at ECU Health; a union to which one son, Lucas James Alexander was born.